I haven't done a link roundup in a while, so be assured that all these links are awesome.
.
Animal of the Month: Immortal Jellyfish
'Immortal' jellyfish swarming across the world – Telegraph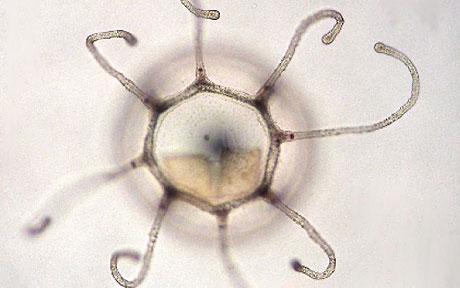 .
In second place is: Giant meat-eating plants prefer to eat tree shrew poo – BBC – Earth News
.
.
[via Don't Panic > Magazine > Desire > THE BLACK HEART GANG]
.
Beautiful and depraved: "Absolutely amazing.  Welcome back Massive Attack. And Mazzy Star. Two of the most iconic performers I've ever experienced.  And then this woman.  Wow." Not safe for work. [if that link isn't working, the video is here too.]
.
.
---
"Perhaps nothing has been more influential in determining the popular perception of the Italian game than furbizia, the art of guile… The word 'furbizia' itself means guile, cunning or astuteness. It refers to a method which is often (and admittedly) rather sly, a not particularly by-the-book approach to the performative, tactical and psychological part of the game. Core to furbizia is that it is executed by means of stratagems which are available to all players on the pitch, not only to one team. What are these stratagems? Here are a few: tactical fouls, taking free kicks before the goalkeeper has finished positioning himself, time-wasting, physical or verbal provocation and all related psychological games, arguably even diving… Anyone can provoke an adversary, but it takes real guile (real furbizia) to find the weakest links in the other team's psychology, then wear them out and bite them until something or someone gives in – all without ever breaking a single rule in the book of football.
…
But if gamesmanship is so rewarding, why are some teams reluctant to embrace it? Why do the Spanish play such a clean version of the game and consider these tactics to be beneath them, while their closest neighbors, the Italians and Portuguese, have no such qualms? Here is Tallarita's explanation:
Ultimately, these differences come from two irreconcilable visions of the game. The Spanish style understands football as something like a fencing match, a rapid and meticulous art of noble origins where honour is the brand of valour. To the Italians, football is more like an ancient battle, a primal and inclement bronze-age scenario where survival rules over honour.
But this just begs the question: why are the visions of the game so different in nations that are geographically and culturally so close?
Rajiv Sethi: Gamesmanship and Collective Reputation [via]
---
.